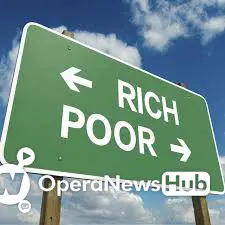 We are Fantasize about becoming rich and successful, but not everyone actually work towards that Goal.
That's why some of us end up living out of their dreams, and some end up living in their parents house.
Am not sure which path you are, now? .
Here are some sign that's shows rich's are in your future.
1. YOU WON'T LET LOVE GET IN YOUR WAY.
You won't let man or a woman get inbetween you and your dreams. If he or she want you to quit your job or stop your passion. Break up is in other.
The right man or woman will support your career.
2.YOU KNOW HOW TO NETWORK.
Networking is important in every aspect of life, including career that you will find. Which means that you have to be nice to everyone, you will never know what others can do for you or in which way they can help you .
Which is Why you have to be sweet to everyone.
3. YOU HONESTLY LOVE WHAT YOU DO.
If your passionate about your work, you won't even realize how many hours you Spent on it.
The work day will be over before you know it, that's a great recipe for success.
4. YOU CAN HANDLE STRESSFUL SITUATIONS.
If you break down for the first sigh of stress. you won't reach success .
Life isn't easy, no matter how your goals are , that's why you need to learn copping methods for dealing with your stress.
So that you will be able to survive your toughest day and time .
5. YOU WON'T SHY AWAY FROM NEW EXPERIENCE.
Don't be a big fish in small pond. You need to visit a new place and learn new things.
If you want your business to grow.
6. YOUR OPTIMISTIC, EVEN WHEN IT'S HARD TO BE.
If you think you can reach your goal, there's is higher chance ,That you actually will.
Positivity magical.
7. YOU LEARN FROM YOUR FAILURE.
If you give up, in chasing your dreams, your not going anywhere.
you can't let your failures push you to switch off your career paths, use them as eductional tool instead.
8. YOU ELIMINATE ELECTRONIC DISTRACTION.
When you have work to do, you can't take a break to snapchat your friend or do facebook and instagram.
You need to focus on the task at hand.
9. YOU KNOW HOW TO MANAGE YOUR MONEY.
Making millions of dollars is one thing. Knowing how to keep it is another thing, if you don't know how to manage your money, your going to lose it all as quickly as you earn it.
10. YOU WAKE UP BEFORE SUNRISE.
You need to make most of the hours in a day.
If you continuing sleeping till noon, your wasting precious time that could be spent advancing your business careers.
NOTE THOSE SIGN AND YOUR RICHES AWAITS YOU.